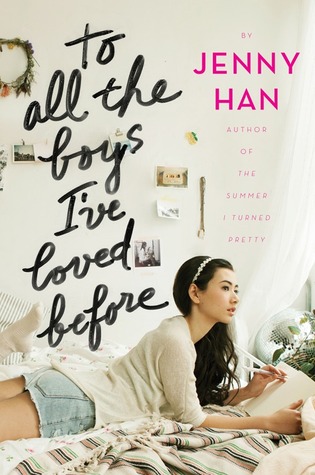 Judul                     : To All The Boys I've Loved Before (To All The Boys I've Loved Before #1)
Penulis                  : Jenny Han
Penerbit                 : Simon & Schuster Books for Young Readers
Terbit                     : Cetakan pertama, April 2014
Tebal                      : 288
Rate                        : 4 /5
"You'd rather make up a fantasy version of somebody in your head than be with a real person."  –Jenny Han, To All the Boys I Loved Before

 
Sudah terlalu lama Lara Jean bersembunyi di balik reputasi Margo, kakak perempuannya yang sempurna. Semuanya terjadi terlalu cepat. Ia anak tengah dari Song bersaudara, yang gemar mengintip dari jendela rumah, memergoki Margo dan Josh, tetangga mereka yang diam-diam ia suka, berpacaran.
Sedikit aneh, tapi Lara Jean gemar menyimpan perasaannya dalam surat-surat cinta yang tidak pernah ia kirim. Tertumpuk rapi di sebuah kotak pemberian mendiang ibu mereka. Sampai suatu hari tiba-tiba saja seseorang mengirimkan surat-surat itu kepada sederet laki-laki yang pernah disukainya.
Semua menjadi kacau. Tentu saja. Peter Kavinsky—laki-laki yang pertama kali diciumnya—mendapatkan satu, lalu Josh, dan siapa lagi? Ia tak sempat berpikir lebih jauh, kala Peter K mendatangi lokernya di pagi itu. Lara Jean menjelaskan semuanya. Tentang surat konyolnya, tentang perasaannya dulu.  Semuanya berlalu. Tapi, tidak dengan Josh, tetangganya yang baru saja mencetuskan ide bahwa Lara Jean adalah cinta pertamanya sebelum Margo, ingin tahu bahwa surat itu bukan sekadar insiden salah kirim.
Lara Jean yakin, Margo dan Jean akan rujuk suatu hari nanti kendati keduanya telah berpisah di malam sebelum Margo hendak pergi ke Skotlandia. Di antara sederet laki-laki di daftarnya, ia selalu memilih Margo.
"Love is scary: it changes; it can go away. That's the part of the risk. I don't want to be scared anymore." –Jenny Han, To All the Boys I Loved Before
Lara Jean tak ingin menghancurkan perasaan kakak perempuannya, jadilah ia membuat sebuah siasat. Berpura-pura pacaran dengan Peter K. Toh tak merugikan keduanya; Lara Jean dapat meyakinkan Josh bahwa surat itu hanya semacam ungkapan rasa kasmaran bodohnya di masa lalu; Peter K dapat membuat Genevieve, mantan pacarnya, cemburu.
Solusi ditemukan. Dengan segala macam kontrak tolol tentang tidak boleh mengumbar PDA di depan umum. Lara Jean yakin semuanya pasti akan mengira kalau mereka sungguhan. Tapi, bagaimana jika ia sungguh jatuh cinta pada Peter? Lantas, siapakah yang akan ia pilih?